Events - BMA Annual Meeting with Keynote Speaker, Eduardo Conrado
Events
Event
Title:

BMA Annual Meeting with Keynote Speaker, Eduardo Conrado

When:

Nov 15, 2012 06:30 PM - 09:00 PM

Where:

Urban Saloon


2120 Fairmount Avenue
Philadelphia, Pennsylvania 19130

Category: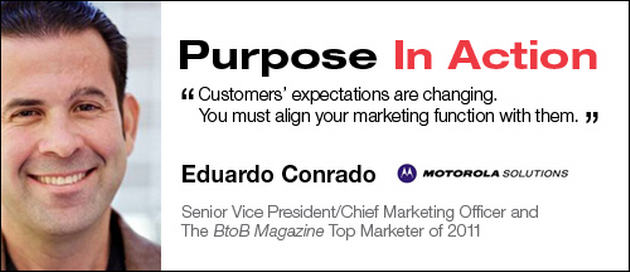 BMA Philadelphia welcomes Eduardo Conrado, SVP and CMO at Motorola Solutions, to its Keynote Event on Thursday, November 15th at Urban Saloon. Conrado will discuss how business-to-business marketing must evolve in the coming years to meet changing customer needs. He will focus on how companies—having clearly defined their purpose—can implement a customer-centric marketing approach.
Speaker Bio
One of BtoB Magazine's Best Marketers for four consecutive years and also named in its annual Who's Who in Marketing, Conrado leads the global team that has been the force behind the company's move toward online and digital marketing, with a focus on sales enablement and thought leadership. He ensures that there is a single unified voice across all communication channels – from branding and marketing strategies, to product and channel marketing, to global communications and interactive marketing.

Conrado was the though leader behind Motorola's award-winning "Technology That's Second Nature" integrated campaign, which was developed in 2008 by BBDO New York to reach vertical segments within government and public safety communities. The campaign drove users to a "virtual city" where they could try out different Motorola products.

Throughout his 19- year career at Motorola, Conrado has moved through a variety of key leadership roles. Most recently he served as senior vice president, Global and Technology Marketing & Communications. Prior to that assignment, he served as vice president of Global Marketing & Communications for Motorola's Networks & Enterprise, a $13 billion business encompassing public and private networks, enterprise mobility and services. Prior to that, he was vice president of Global Marketing, Public Relations and Industry Analyst Relations for Motorola Networks. This position was preceded with multiple international business and marketing assignments in a range of areas across Motorola.

Mr. Conrado holds an MBA from ESADE in Barcelona, Spain and a Masters of International Management from the Thunderbird School of Global Management. He also holds a Bachelor of Science in Industrial Engineering from Texas Tech University. He is on the Board of Directors for the Business Marketing Association and the Advisory Board of the Thunderbird School of Management.